Mazda Miata: 30th Anniversary Edition Gets More Power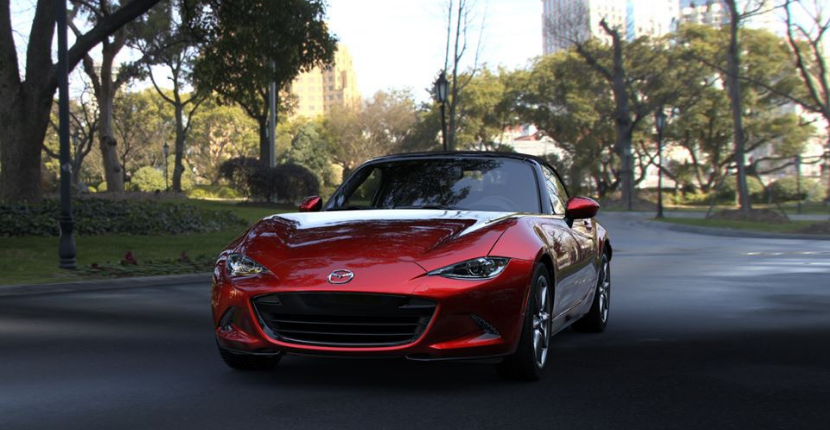 The Mazda MX-5 Miata made its first debut during the 1989 Chicago Auto Show. Although the automaker produced its one-millionth MX-5 back in April of 2016, it recently celebrated its 30th anniversary this past February where it all began – the Chicago Auto Show.
The 2019 Mazda MX-5 Miata rolled out its 30th Anniversary Edition vehicle during the 2019 Chicago Auto Show to celebrate 30 successful years of production. This special edition vehicle features a limited edition Racing Orange exterior paint color, powerful performance enhancements, and unique design elements.
This powerhouse encompasses a new engine with lighter pistons, a new exhaust, and a dual-mass flywheel. As for the engine itself, an all-new 2L four-cylinder produces 181 horsepower and 151 lb-ft of torque. 2019 MX-5 aficionados can opt for a 6-speed automatic or a 6-speed manual transmission in conjunction with this brands new engine.
In addition to a brand new engine, the 2019 Mazda MX-5 Miata is also available in three different trims. These include the Sport, Club, and Grand Touring. The automaker only produced 3,000 of these limited edition vehicles, with 500 reserved for U.S. residents. Although all 500 have been accounted for in the U.S. already, Miata lovers can rest assured that these 30th Anniversary Editions are in good hands.
Click here for more information about 2019 Mazda models, or visit your Mazda dealer of Orland Park to browse a comprehensive collection of the best Mazda vehicles to date.