What You Need to Know About the 2021 Mazda MX-5 Miata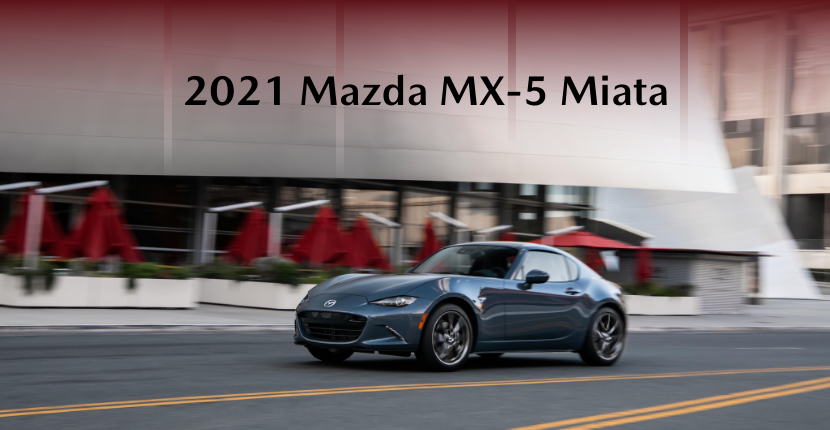 The 2021 Mazda MX-5 Miata is making waves at Mazda dealers, and it's a great new car to learn more about as you survey the market. The MX-5 Miata has been recognized as a peerless affordable roadster for its excellent road-hugging handling, a great manual transmission, stylish Retractable Fastback (RF) looks, and impressive technology, including standard connectivity to Apple CarPlay and Android Auto. 
The Basics 
The 2021 MX-5 Miata is a two-seat convertible with both a soft and power hard top available. In the 2021 model, the MX-5 Miata adds standard connectivity with Apple CarPlay and Android Auto. The standard model features a black soft top roof, but a Retractable Fastback option with a power hard top is available. With a well-designed body, the Miata's ride height and weight balance connect the driver to the road unlike any other modern car. 
The Miata's Performance 
As one of the most functional and quick Mazda models, the 2021 MX-5 Miata features a 2.0-liter inline-4 engine that produces 181 horsepower and can be paired with a seamless 6-speed manual transmission. The standard model is equipped with a rear-wheel drive system (RWD). With a 50/50 weight balance, the MX-5 Miata is easy to maneuver and extremely responsive. This powerful engine makes it capable of reaching 0 to 60 mph in under 6.0 seconds.
Interior Features
The MX-5 Miata doesn't disappoint on the inside either. It has some of the best and latest technology and entertainment features, including a 7.0-inch touchscreen, stereo speakers in the driver's headrest, Bluetooth connectivity, keyless entry, power adjustable features, and LED headlights and taillights. On the upper trim levels, the vehicle includes heated Nappa leather seats, navigation, automatic headlights, and wireless CarPlay. 
Additionally, its standard safety features include automatic emergency braking at low speeds, blind-spot monitoring, and lane-departure warning. On the Grand Touring model, which is the top trim level, automatic LED headlights and taillights are paired with adaptive headlights and automatic high beams. 
MX-5 Miata Cost 
For the base Sport model, the MX-5 Miata starts at $27,775. At the next level, the Club model costs $31,245 with a soft convertible top and $34,000 for the power Retractable Fastback hard top. For the top trim level, the Grand Touring model costs $32,725 with a soft top and $35,480 for the hard top. 
Fuel Efficiency
Lean and quick, the 2021 MX-5 Miata has great fuel efficiency. On the manual vehicle with both the soft and hard top, it has an EPA-rated fuel economy of 26 mpg city, 34 mpg highway, and 29 mpg combined. Even more efficient, the 6-speed automatic model has an EPA-rated fuel economy of 26 mpg city, 35 mpg highway, and 30 mpg combined.
Mazda Near Me
Searching for a "Mazda near me"? Your search ends here at Mazda of Orland Park. For all of your Mazda service and maintenance needs, Mazda of OP is here for you. Visit us to learn more about how much the 2021 Mazda MX-5 Miata can offer your or schedule a test drive today!