Mazda Against the Competitors: Mazda CX-5 vs. Volvo XC40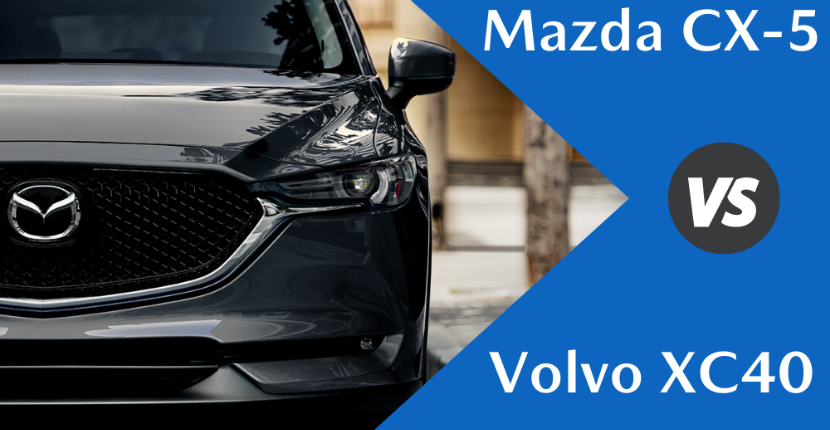 Those on the market for a great compact SUV have two options in the 2021 Mazda CX-5 and the 2021 Volvo XC40. While the XC40 is Volvo's best compact SUV, the best compact SUV from any carmaker is by far the Mazda CX-5. It's superior features like turbo power, safety ratings, rear legroom, and driving fun push it over the top for the best choice of vehicle. Find a Mazda CX-5 for sale at a Mazda Near Me now!
Here's a little more about both models: 
A History of Excellence
While the Volvo XC40 has only been around since 2017, the Mazda CX-5 arrived in the segment in 2012, meaning it has had more time to develop and improve over time. This may not seem like a huge deal, but it's a good indication that the CX-5 has had time that the XC40 hasn't had to iron out any kinks and ensure overall safety. Even better, the CX-5 has stayed ahead of its competitors in terms of innovation and technology, despite being older on the market. In fact, the all-new 2022 Mazda CX-5 is coming to Mazda dealers soon!
CX-5's Turbo Power and Performance 
The CX-5s can be outfitted with two engine options, including a 2.4-liter turbocharged four-cylinder engine that produces 250 horsepower and 320 lb.-ft. of torque. This engine earns it better fuel efficiency (25 mpg city, 31 mpg highway) than the Volvo XC40, saving you time and money at the gas pump. 
Savings and Value 
While there are many things that separate the CX-5 from the XC40, one of the most important factors to consider is that the Mazda holds much more value than the Volvo. According to Kelley Blue Book, the CX-5 starts a full $8,000 cheaper than the XC40. And with seven available trim levels, you can add a lot to your Mazda before you even reach the CX40's starting price.

Superior Safety 
Mazda models are known for their excellent safety, and the CX-5 is no different. The CX-5 earns the highest honor for its performance in IIHS safety testing. In fact, all models of the compact Mazda carry the 2020 Top Safety Pick+ designation. 
With the IIHS Top Safety Pick+ designation, the CX-5 clearly shines in terms of its safety features on both the Mazda CX-5 interior and exterior. It's long list of safety features includes a Driver Air Bag, Passenger Air Bag, Front Head Air Bag, Rear Head Air Bag, Front Side Air Bag, 4-Wheel ABS, 4-Wheel Disc Brakes, Brake Assist, Electronic Stability Control, Daytime Running Lights, Child Safety Locks, Integrated Turn Signal Mirrors, Traction Control, Blind Spot Monitor, Lane Departure Warning, Lane Keeping Assist, and Cross-Traffic Alert. 
On top of all that, the CX-5 is equipped with Mazda's special i-Activsense 3 safety technology. With features like Rear Cross Traffic Alert and Smart Brake Support, i-Activsense 3 safety technology is constantly evolving to help protect drivers, passengers, and pedestrians in the event of an accident; and when possible, to avoid them entirely. It's all part of Mazda's goal to create safer cars and more confident drivers. With so many amazing features, you'll have the peace of mind knowing you and your passengers are protected on the road. 
Mazda Dealer Near Me
At Mazda of Orland Park, we have a wide selection of new and used Mazda vehicles, as well as an excellent Mazda service department to serve all of your needs. Visit is to learn more about the superior experience of the 2021 Mazda CX-5 or see for yourself by scheduling a test drive today!