Servicing Your Mazda CX-5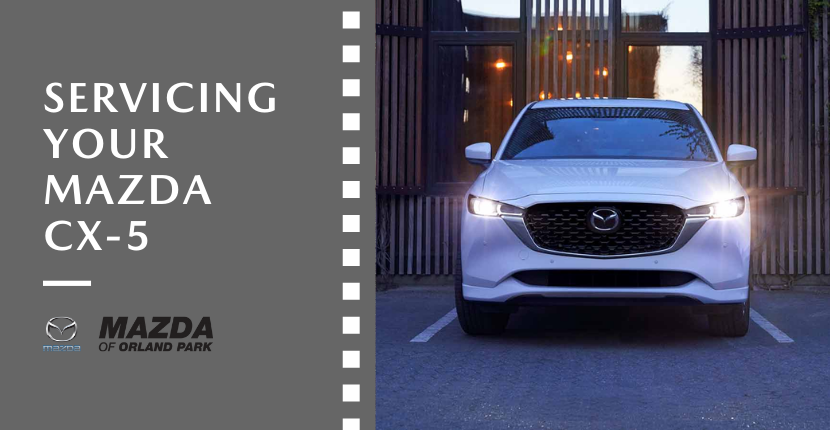 The Mazda CX-5 redefines refinement. The 2022 SUV, featuring a 2.5 Turbo engine, provides an elevated driving experience that invigorates both body and mind. Popular amongst those looking for more than what an SUV offers, the Mazda CX-5 is popular amongst families and road adventurers. To keep in the best condition, it's important to service the CX-5 properly. Check out Mazda service for your CX-5 at Mazda of Orland Park now!
Service on the CX-5 
During its first ten years of service, the Mazda CX-5 will cost about $7,339 for maintenance and repairs. That might seem like a lot, but it actually beats the industry average for popular SUV models by $1,541. With the CX-5, you'll save a lot more than with competitors. 
How to Service the CX-5 
At every interval of 7,500 miles, maintenance on your CX-5 should include lubricating the trunk, doors, and hood hinge, as well as rotating tires, changing oil, and changing its filter. At 25,000 miles, you should replace the cabin air filter completely. At 60,000 miles, you'll want to do a cooling system flush, and at 100,000 miles, your CX-5 will need another cabin air filter replacement and a spark plug replacement. At 150,000 miles, you should also have a serpentine/drive belt replacement. Getting the corresponding service done on your Mazda CX-5 at these mile numbers will ensure your vehicle is kept in its best condition, saving you money on costly repairs. 
Service Specials at Mazda of Orland Park 
At Mazda of Orland Park, our Mazda Service Center is offering great service specials to keep your CX-5 running smoothly. Our service specials are applicable for all Mazda models too! Check out our great specials:
Mazda Battery Special: 10% Off

Your Genuine Mazda battery is a key component to your vehicle's overall reliability and performance. For peace of mind, come in today and have one of our technicians install a new Genuine Mazda battery. Don't wait until it's too late!

Oil Change Plus: $29.95

Get more value for your money! Our professional Mazda-trained technicians will change motor oil per specifications, install a Genuine Mazda oil filter, top off vital fluids, and complete a multi-point inspection

Front or Rear Brake Special: $20.00 Off

Problems with your Mazda's brakes are serious- don't wait too long! Use the Mazda service coupon on

our website

to receive a special discount on the brake service you need.

4-Wheel Alignment Special: $99.95

Get your Mazda tires aligned. Poorly aligned wheels wear out tires prematurely and reduce gas mileage. Service includes inspection/adjust caster, camber and toe-in as applicable; inspection of suspension and steering linkage, tire wear check, tire pressure check, adjust as necessary, computerized alignment, and a road test.

All In-Stock Wiper Blades: $5 OFF
Visit Mazda of Orland Park!
Looking for a Mazda dealer near me? Mazda of Orland Park is not your typical car dealership. We are now an employee-owned Mazda dealership staffed with long-term employees who will continue to give you the award-winning customer service you expect. We have a great selection of new and used vehicles, or you can order a Mazda online. We have a great service department with equally amazing service specials and professionally trained technicians and mechanics who love working on Mazda vehicles. Our mechanics will get you out of the door in no time with a smile on your face. Schedule your Mazda CX-5 service appointment now!