U.S. News and World Report Names the 2023 Mazda CX-5 Best Compact SUV for the Money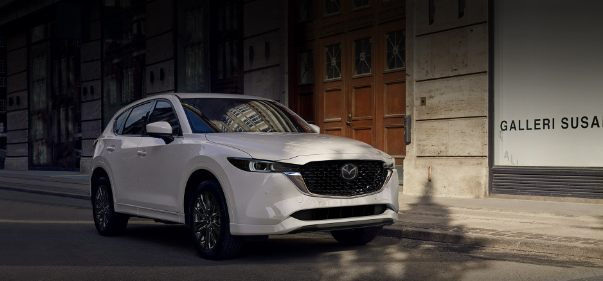 There's even more exciting news about the 2023 Mazda CX-5! Mazda is pleased to announce that the Mazda CX-5 was just named the Best Compact SUV for the Money by U.S. News & World Report. With its exquisitely sculpted exterior and sophisticated interior space, the 2023 Mazda CX-5 feels like it's tailored to you. It transcends refinement. Combined with our now standard i-Active AWD and increased horsepower available for turbo models, this CUV provides an elevated driving experience that invigorates both body and mind. Check out the 2023 CX-5's amazing value now at Mazda Orland Park!
Best Compact SUV for the Money Award 
There are so many reasons why the 2023 Mazda CX-5 was named the Best Compact SUV for the Money by U.S. News & World Report. First, the Mazda CX-5 price starts at just $26,700, and even the most premium tier—the 2.5 Turbo Signature—is only $39,650. U.S. News & World Report's review of the Mazda CX-5 notes it "offers a blend of comfort, athleticism, and interior refinement that helps elevate this SUV from practical people-mover to near-luxe transportation." 
Additionally, Jim Sharifi, managing editor at U.S. News Best Cars, said, "The Mazda CX-5 combines desirable features, such as standard all-wheel drive, with a top spot in our rankings. The  Mazda CX-5 also offers a competitive price and low ownership costs, but many of its best attributes are noticeable right out of the gate. Buyers will appreciate that the  Mazda CX-5 really shines when it comes to interior quality, and sporty driving dynamics help it deliver a unique and rewarding driving experience."
Engineered to Elevate Each Drive 
With available Turbo and standard AWD, the Mazda CX-5 offers a harmonious balance of responsive handling and effortless acceleration. With i-Activ AWD, now standard, along with an increase in horsepower available for Turbo models, it's engineered to invigorate each drive. Mazda Intelligent Drive Select technology (Mi-Drive) allows you to customize your drive modes along various roads and surfaces. With the push of a button, you can choose between Normal, Sport and available Off-Road Modes for a more tailored performance and a deeper connection between you and your vehicle.
A Configuration For Everyone
There are so many great 2023 Mazda CX-5 configurations to choose from. Starting at $26,700, the 2.5 S trim offers i-Activ AWD, Advanced Smart City Brake Support with Pedestrian Detection, and Apple CarPlay and Android Auto integration. At the top of the lineup is the 2.5 Turbo Signature, which starts at just $39,650 and offers Nappa leather-trimmed seats, 360 View Monitor, and Genuine layered wood trim. In between those two models sits the 2.5 S Select, 2.5 S Preferred, 2.5 S Carbon Edition, 2.5 S Premium, 2.5 S Premium Plus, and 2.5 Turbo. 
Visit Mazda of Orland Park!
Looking for a Mazda near me? Mazda of Orland Park is not your typical car dealership. We are now an employee-owned Mazda dealership staffed with long-term employees who will continue to give you the award-winning customer service you expect. We have a great selection of new and used vehicles, or you can order a new Mazda online. We have a great Mazda service department with equally amazing service specials and professionally trained technicians and mechanics who love working on Mazda models. Stop in to experience the award-winning the 2023 Mazda CX-5 today!