What You Need to Know About the New 2024 Mazda CX-70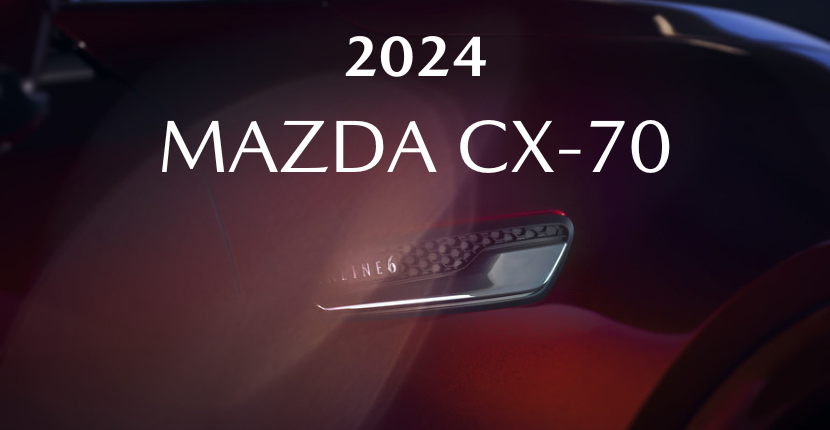 Since 2021, Mazda has been planning some exciting news for its premium segment! In North America, Mazda is expected to soon release the two-row Mazda CX-70, which will join the highly anticipated Mazda CX-90. The 2024 Mazda CX-70 is rumored to incorporate innovative technology and eco-friendly options. That means a Mazda CX-70 PHEV model. Visit Mazda Orland Park to learn more about the exciting new Mazda CX-70! 
Introducing the Mazda CX-70
The 2024 Mazda CX-70 will start at just $38,000 and feature the turbocharged 3.0-liter inline-six engine or inline four-cylinder engine with a 48-volt hybrid system. Outfitted with the 48-volt system, the internal combustion engine will pair with a 17.8-kwh battery pack to produce even more power and capability. This model will also probably be offered with a Mazda CX-70 Hybrid engine. Additionally, the Mazda CX-70 specs indicate it will feature both rear-wheel drive and front-wheel drive. 
When Will the Mazda CX-70 Go On Sale? 
Although the launch date of the 2024 model is approaching, the exact Mazda CX-70 release date is still unknown. Mazda USA CEO Jeff Guyton confirmed that the vehicles will arrive sometime in 2023, and auto enthusiasts are anticipating that it will premiere by the second half of 2023, perhaps in July or August so that the US market will receive the 2024 model by October of 2023. 
A More Luxurious Approach 
Featuring a slick new platform and a wider body, the Mazda CX-70 will captivate audiences with its distinctive styling and serve as the perfect selection for enthusiasts looking for something between the CX-50 and three-row CX-90. The CX-70 offers a slimmer version of the CX-90, pursuing a more luxurious approach. 
Mazda's North American CEO Jeff Guyton has hinted that the CX-70 would share the same platform as the CX-90. Delivering a slender new platform and wider body, the two-row SUV will also feature a spacious interior with quality materials that promise a relaxing and heightened driving experience. 
Visit Mazda Orland Park!
Looking for a Mazda near me? Mazda of Orland Park is not your typical car dealership. We are now an employee-owned Mazda dealer staffed with long-term employees who will continue to give you the award-winning customer service you expect. We have a great selection of new and used vehicles, or you can order a new Mazda online. We have a great Mazda service department with equally amazing service specials and professionally trained technicians and mechanics who love working on Mazda models. Stop in today to reserve your 2024 Mazda CX-70 before they run out!