How to Open Mazda Key Fob and Change the Battery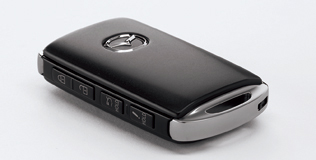 You don't want to get stuck from a dead Mazda key fob battery while you're out and about. You'll be able to get in and out of your vehicle with the physical key, but a Mazda key fob battery replacement will be needed to fully use your vehicle. You should replace the battery once a year to be on the safe side. Continue reading to learn how to open a Mazda key fob and change the battery or visit Mazda of Orland Park for assistance with your Mazda key fob battery today!
What You'll Need to Replace the Battery 
Before you begin the process of changing the battery in your Mazda key fob, there are a few things you'll need to make sure you have around first. Of course, the first thing you'll need is a replacement battery. Not sure what Mazda key fob battery type is right? You'll need a CR2025 battery, which you can get online or at a local hardware or electronics store. To open Mazda key fob, you'll also need a small flat head screwdriver with the head wrapped in tape to prevent scratches. Once you have everything, you're ready to replace the battery. 
How to Open Your Mazda Key Fob 
Making your life easier, the process of opening your Mazda key fob is identical across the Mazda model lineup. Follow these steps to open up your key fob: 
First press the auxiliary key button on the back of your key fob in order to remove the metal auxiliary key

After the metal key has been removed, locate the slot on either side of the key fob case

Then using the tape-wrapped flathead screwdriver to pry open the case, first on one side, and then on the other. Be sure to work gently. 
How to Change Mazda Key Battery
After gently opening up the key fob, you're now ready to replace the battery. Carefully follow these steps:
Remove the battery cap, making sure to set it somewhere you won't lose it 

The battery should not be fully exposed, so carefully remove it and avoid damaging the small rubber ring that it sits on — if you accidentally scratch or damage the rubber ring, you'll need to replace this component before continuing 

With the ring properly in place, insert the new replacement battery into the key fob's slot with the positive (+) side up 

Finish by returning the battery cover to its proper place and reattaching both sides of the key fob place by pressing them until you hear them click into place 
How to Start Mazda with Dead Key Fob
Follow these step to start a Mazda with a dead key fob: 
Turn the key over and look for a small latch on the back.

Release and pull down on the latch to find a traditional key that will come out from inside the fob.

Insert the key in the driver's side keyhole and manually unlock the door.

Push down the vehicle's brake and look for the Mazda symbol near the top of your fob and press it against the push-button start. A small chip inside the fob will then be connected to the car, and the engine will be started.
Visit Mazda Orland Park!
Looking for a Mazda near me? Mazda of Orland Park is not your typical car dealership. We are now an employee-owned Mazda dealer staffed with long-term employees who will continue to give you the award-winning customer service you expect. We have a great selection of new and used vehicles, or you can order a new Mazda online. We have a great Mazda service department with equally amazing service specials and professionally trained technicians and mechanics who love working on Mazda models. Stop in to learn more about replacing your Mazda key fob battery now!