2022 Mazda CX-5 vs. 2022 Toyota RAV4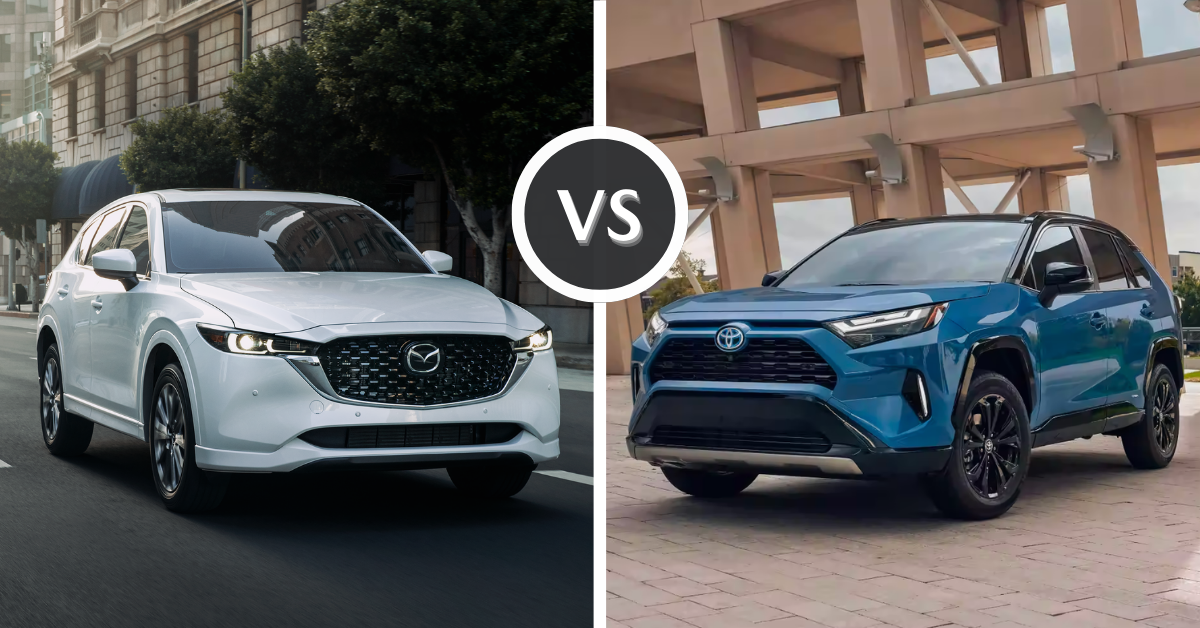 The 2022 Mazda CX-5 and the 2022 Toyota RAV4 are two popular options for those in the market for compact SUVs. Toyota's best compact SUV is the RAV4, but the best compact SUV on the auto market is clearly the Mazda CX-5. Its superior features like stylish design, turbo power performance, safety ratings, plenty of cargo space, and great fuel economy put it over the top for the best choice of vehicle. To learn more about what sets the CX-5 sets apart from the competition, visit Mazda of Orland Park!
Mazda CX-5 Features Newer Design
While the Toyota RAV4 has been around since the compact crossover emerged onto the market in the mid-1990s, the Mazda CX-5 is a much newer addition to the segment, arriving in 2012. This may not seem like a huge deal, but it's a good indication that the CX-5 is able to be more innovative and provide customers with newer features than the RAV4 because it doesn't have to adhere to an older original design scheme dating back nearly three decades.
CX-5's Superior Turbo Power and Performance
While the Toyota RAV4 only offers customers one engine, the CX-5 is outfitted with a 2.4-liter turbocharged engine (four-cylinder) that produces 250 horsepower and 320 lb.-ft. of torque. The RAV4 does not have a turbo engine option.
While the quickest RAV4 reaches 60 mph in 8.0 seconds, the turbo CX-5 speeds to 60 mph in just 6.5 seconds. The fastest RAV4 will start at a hefty $39,375, while the 2022 Mazda turbo CX-5 starts at $36,850, giving you a much better deal with more power.
Superior Safety Ratings
Mazda models are known for their excellent safety, and CX-5 models are no different. They feature impressive safety features like Pedestrian Detection and all-wheel drive. The CX-5 earns the highest honor for its performance in IIHS safety testing. In fact, all models of the compact Mazda carry the 2020 Top Safety Pick+ designation. On the other hand, not a single RAV4 variant gets this same honor due to its lackluster headlight ratings.
Comfortable & Spacious Interior
If you're looking for a roomy, comfortable ride, the CX-5 is the way to go. Mazda CX-5 dimensions include 39.6 inches of legroom, while you'll only get 37.8 inches of legroom for rear seats in the RAV4.
Ultra Fun Driving Experience
With great body control and light, communicative steering, the CX-5 offers you a genuinely fun experience. It's an obvious athlete. The four-cylinder engine and six-speed automatic transmission makes the most of the compact crossover's output. And when you're done on your day's adventure, you can be sure the excellent Mazda service will keep your vehicle in shape.
CX-5 Triumphs Over the RAV4
The Mazda CX-5's elegant, premium design and engaging driving experience makes it the perfect compact crossover for any motor enthusiast — and puts it above the RAV4. While the RAV4 is a good Toyota, it's underwhelming in terms of powertrain and dynamics compared to the CX-5. Plus, the CX-5 offers a Signature Trim for even more luxury and a high quality experience, including a unique center console.
Visit Mazda of Orland Park to Learn More About the Mazda CX-5
Mazda of Orland Park is not your typical car dealership. We are now an employee-owned Mazda dealership staffed with long-term employees who will continue to give you the award-winning customer service you expect. We have a great selection of new and used vehicles, or you can order a new Mazda online. We have a great Mazda service department with equally amazing service specials and professionally trained technicians and mechanics who love working on Mazda models.
Visit our dealership or contact us to test drive a new Mazda CX-5 today!